Magical Rainforest Wedding Venue
Surrounded by World Heritage listed rainforest and with nothing spared on luxury, Misty Mountains Rainforest Retreat is one of the most magical rainforest wedding venues in Queensland. Our guests consistently confirm this in their reviews.
'The most romantic place imaginable.'
'We got married under a magnificent 300 year old fig tree in an open air chapel in the rainforest standing in a circle of jade flowers.' My Perfect Wedding magazine.
'Our wedding could not have been better.'
'We could not find a more stunning location and venue to have our tropical wedding and reception.'
Located near Cairns, Queensland, by the Great Barrier Reef, you and your guests will want for nothing in this isolated paradise. Your guests have many activities to choose from in the region – a day out on the Great Barrier Reef, whitewater rafting, hot air ballooning, fishing charters, or waterfall trails.
We are happy to help with ideas when decorating your rainforest wedding venue. Imagine a marquee festooned with fairy lights in a tropical garden, old growth rainforest, flame torches, a swimming lagoon lit from within, flower petals, bouquets of orchids, forest fern and honeycomb candles... Whatever your tastes, we can create an enchanting atmosphere and unforgettable experience for you and your guests.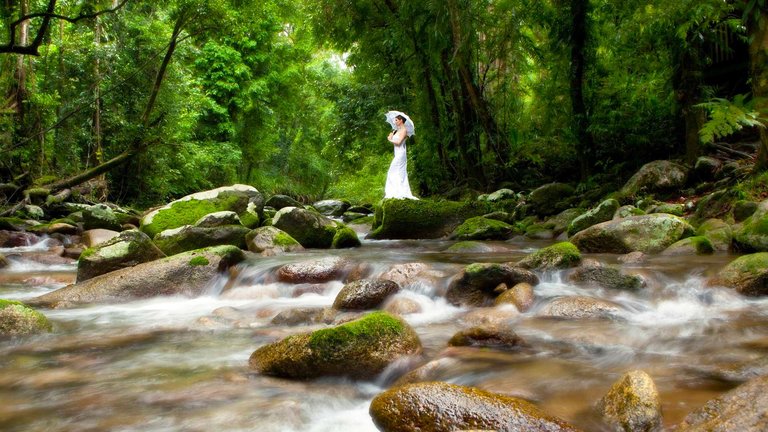 Tropical Wedding & Honeymoon Package
100 % privacy, 100 %romantic rainforest and tropical garden wedding venue located only 45 minutes south of Cairns at Bellenden Ker.

For your intimate Destination Wedding & Honeymoon Packages: "Say I Do"
See all packages options on our Rates page
Misty Mountains Rainforest Retreat can cater for 2 - 30 guests.
If you don't wish to stay at the rainforest retreat, but would like it as your tropical wedding venue, it is $2200 for your location fee at Misty Mountains Rainforest Retreat.
You will have access the day before your wedding from 3pm .onwards the day of your wedding until 9:30 am the following day for packing up for caterers.
A later time can be arranged if there are no bookings for the following day. There is a $1000 bond that will be refunded upon your departure.
The First Step
Contact us by email or phone ( Mobile 07 4067 5311 or International +61 7 4067 5311). We'd love to discuss your wedding plans, and supply you with the highest of quality service providers that will help to make your rainforest wedding everything you want it to be. Essentially this is the most special day and it has to be exactly how you want it to be.
Once the accommodation, wedding package and celebrant of your choice have been booked, your details and dates will be confirmed. We will contact you to discuss the style of your ceremony and help you to select caterers.
Choosing a Wedding Ceremony Location
Upon arriving at Misty Mountains, we will show you the stunning rainforest ceremony locations. You can exchange your vows in the ancient rainforest, by a mountain stream, at the open air chapel at the Grand Old Fig Tree, in the tropical gardens, or on the beautiful lawns.
Best Time of Year
Every season has its own beauty. Winter (May through August) in the tropics has warm days and cool nights with very little chance of rain. Spring (September through November) has warm days and balmy nights. Some couples love the misty and warm wet season in February and March. Rain is more common at this time of year. For precise information read our climate data chart on Cairns.
Getting There
There are regular international and domestic flights to Cairns. Misty Mountains Rainforest Retreat is 40 minutes drive south of Cairns International Airport. Hire cars are available at the airport. A limousine or helicopter can also be arranged; the rainforest retreat has its own helipad.
Your Guests' Accommodation
By distributing your invitations well in advance, your guests can easily make arrangements to book accommodation in Cairns where there are a wide range of options. At the rainforest retreat we can offer the Homestead with min stay of 7 nights sleeps 9 guests, The Blue Lagoon Villa sleeps 4 guests and the Hideaway sleeps 2-3 guests.

Recommended Wedding Services in Cairns
Wedding Photographers & Videographers
Wedding Caterers
Florists
Celebrant
Wedding Planner
Limousine services
Gallery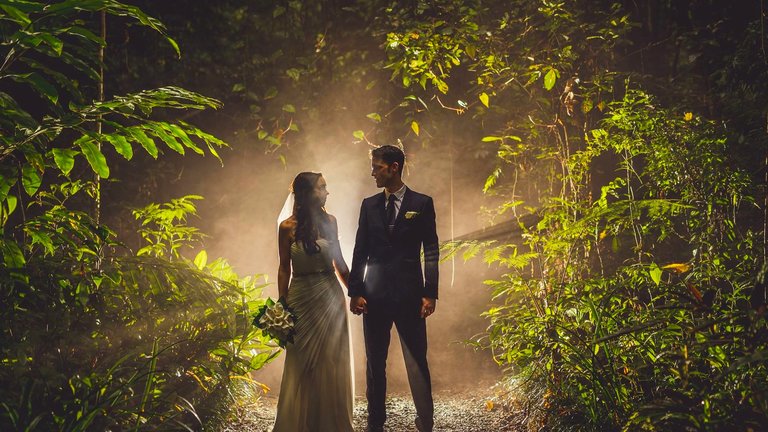 In the Media Featured on
Misty Mountains – Luxury Rainforest Accomodation near Cairns
Copyright © 2022 Misty Mountains
Australia |
website by AugRea